[et_pb_section fb_built="1″ admin_label="section" _builder_version="3.22″][et_pb_row admin_label="row" _builder_version="3.25″ background_size="initial" background_position="top_left" background_repeat="repeat"][et_pb_column type="4_4″ _builder_version="3.25″ custom_padding="|||" custom_padding__hover="|||"][et_pb_text admin_label="Text" _builder_version="3.27.4″]
In football, it's often the goal scorers that get all the plaudits. Whilst the thrill of a last minute winner or a well struck volley can never be beaten, often a team's victory is made at the other end.
A goalkeeper's job is to stop the magic happening, although ironically, often with their own sprinkling of magic themselves.
If you've always wondered 'why are those players wearing gloves' then read on and we'll explain all you need to know about the goalkeeper.
The Role of The Goalkeeper
A goalkeepers primary role is to prevent the opposition team from scoring a goal. Often abbreviated as 'goalie' or 'keeper,' the position is the single most specialised in the game with goalkeepers needing a completely different set of skills to every other outfield player.
Part of the reason for this is because the goalkeeper is the only player who is permitted to use their hands in normal play. Whether it be by catching the ball or simply deflecting it away, the goalkeeper can use any part of their body to stop the opposition team scoring.
But a goalkeeper can't just run the length of the pitch with the ball in their hands, they have limits!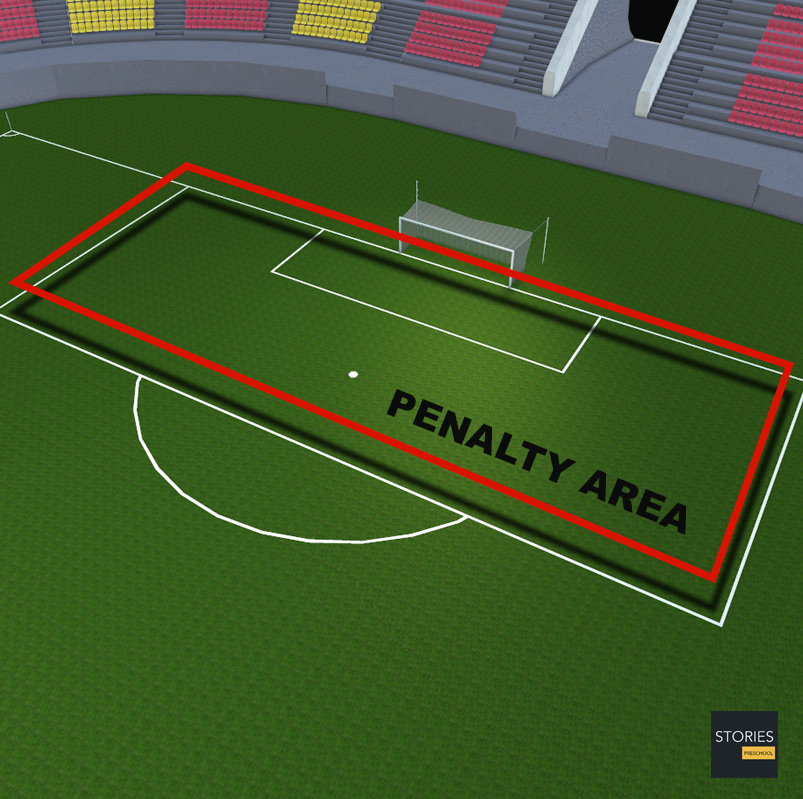 The goalkeeper can only use their hands within the confines of their penalty area, often called the 18-yard box. The penalty area is significant for many reasons in football, but for goalkeepers, it's imperative they command that space to prevent the other team creating scoring opportunities.
The smaller box within the penalty area is called the 6-yard box. Goalkeepers use this box to take 'goal kicks,' a mechanism of restarting the game when the opposition kicks the ball behind the goal.
Other Goalkeeping Rules
There are a few other standout rules to be aware of when getting to know the goalkeeper position.
Goalkeepers cannot be tackled when they have the ball in their hands. Opposition players cannot kick the ball out of a goalkeeper's hands or apply excessive physical pressure to force the keeper into dropping the ball. Either of those actions will be a foul and often lead to a player being sent off.
Because of this, the back pass rule was introduced. The back pass rule states that goalkeepers cannot pick up the ball if it is deliberately passed to them by their own team. This stops defensive players killing the game when under pressure. If a goalkeeper is to pick up the ball, a freekick is awarded.
Goalkeepers will incur a straight red card if they deliberately handle the ball outside of their penalty area. With great power comes great responsibility – as the only players who use their hands, stricter rules are placed on goalkeepers who handle the ball illegally.
Greatest Historic and Current Goalkeepers
There have been some truly fantastic goalkeepers who have graced the game of football. Here's our pick of some of the best from days gone by alongside those still playing the game today!
Historic – Peter Schmichael
Famous for being part of Sir Alex Ferguson's unstoppable 1990's Manchester United team, Peter Schmichael was a colossal in goal.
At 6 ft 3 and nearly 100kg during his playing days, Schmichael's physique made it difficult for attackers to get the ball around him. He coupled that physique with the now commonplace 'starfish' method – making his body as big as possible to intimidate and close down opposing players.
He finished his career with over 600 club appearances picking up numerous league and cup trophies alongside winning the European Championship with Denmark.
Historic – Iker Casillas
Iker Casillas was both an exceptional gifted goalkeeper alongside winning everything, literally everything, there is to win in European football.
Making his debut for Real Madrid at only 16 years of age set straight Casillas on the path to greatness. With his club, he won the league and every cup on offer multiple times amassing nearly 550 appearances.
He also led the iconic Spain national team during the 2010 World Cup triumph, also picking up two European Championships either side of that success in 2008 & 2012.
Historic – Oliver Kahn
During a 14 year period, Oliver Kahn kept the door firmly closed for both Bayern Munich and Germany gaining a reputation as one of the best keepers of all time.
Renowned for his ability in a 1-on-1 situation with a striker, Khan's aggression often intimidated opposition players into submission. This style of player led to nicknames such as 'The Titan' and 'The Volcano'
He won multiple Germany titles alongside Champions League titles during his stint in the Bundesliga. Internationally, he led Germany to the 2002 World Cup final and is the only goalkeeper to win the World Cup golden ball as the best player.
Current – Gianluigi Buffon
For many sports fans, Gianluigi Buffon is the greatest goalkeeper to play the game. The Italian, now aged 42, has over 700 club appearances, most of those with Juventus.
He has won all there is to win in Italy with the UEFA Champions League famously alluding him so far. He holds a number of Serie A records, including consecutive and total number of clean sheets and is Italy's most capped player.
Whilst now in the twilight of his career, he still plays regularly for Juventus, drawing great appeal and applause from fans for his fantastic shot stopping abilities.
Current – Manuel Neuer
Another great who's approaching his later years, Bayern Munich's Manuel Neuer combines cat-like reactions with a mobility to play as a 'sweeper keeper.'
Having won everything with Bayern Munich, he also led Germany to 2014 World Cup glory, winning the golden glove as the best keeper along the way.
At 34, he still has some playing years left and is expected to be Bayern and Germany's number 1 for some time yet despite strong competition from others behind him.
Current – Alisson Becker
We'll finish up with the current number one keeper in the world, Alisson Bekcer. The Brazilian is part of Liverpool's current world champions with many putting the playing style of Alisson front and centre in their success.
Alisson epitomizes the current trend of sweeper keepers who are as equally good with their feet and they are with their hands. He compliments Liverpool's fast and direct style of play, often starting attacks with his quick thinking and distribution.
He's already been fairly successful, winning the Premier League and Champions League with Liverpool whilst winning the 2019 Copa America with Brazil, where he was named the tournament's best goalkeeper.
Final Whistle!
That's it for our intro in the role of a goalkeeper as well as a look at some of the greatest keepers past and present.
If you still don't believe goalkeepers are just as important (or exciting) as goal scorers, take a look at the video below to see how of the greatest saves in football history.
[/et_pb_text][/et_pb_column][/et_pb_row][et_pb_row _builder_version="4.5.6″ _module_preset="default"][et_pb_column _builder_version="4.5.6″ _module_preset="default" type="4_4″][et_pb_text _builder_version="4.5.6″ _module_preset="default" header_font="Montserrat|800|||||||" header_text_align="center" text_orientation="center" border_width_bottom="4px" border_color_bottom="#ff4c00″]
OUR LATEST ARTICLES
[/et_pb_text][/et_pb_column][/et_pb_row][et_pb_row _builder_version="4.5.6″ _module_preset="default"][et_pb_column _builder_version="4.5.6″ _module_preset="default" type="4_4″][et_pb_blog_extras posts_number="3″ include_categories="26″ excerpt_length="0″ _builder_version="4.5.6″ _module_preset="default" body_text_align="center" hover_enabled="0″ post_order_by="rand"][/et_pb_blog_extras][/et_pb_column][/et_pb_row][/et_pb_section]